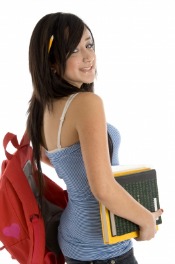 I can't believe that school will be starting soon and in some areas classes have already started.  It is crazy to think about who fast this summer has gone by.  Last weekend I decided to take advantage of tax free weekend and I bought my children most of the items that they will need on the first day of school.  I also bought extra basic school supplies and refilled my box of extra school supplies so that I have all of the basic supplies that my child might need throughout the school year.  If you are like me, I love to label all of my children's school supplies so that they can easily identify their supplies, lunchbox, and anything else that they have to take to school.  I haven't had a chance to label any of their school supplies yet.  Do you take the time to label or mark all of your children's belonging's before they go back to school?  If so, how do you label each of your child's items? Disclosure:  All information in this post is my own and may differ from your own opinions.  The opinions reflected in this post is based upon my own experience with labeling back to school items and articles of clothing.
Labeling Your Child's Belongings with a Sharpie Marker
Sharpie markers are a great way to label your child's stuff.  This method of labeling your child's stuff is time consuming, especially, if you are like me and want to label each pen, pencil, crayon, marker, ect.  I am probably a bit OCD but I want to make it easy for my children to be able to easily identify their belongings.  A sharpie marker is fairly permanent and even works well for labeling clothing, lunch boxes, and all of their school supplies. Sharpie makers don't work very well on items that have to be washed on a daily basis.  I have tried using a sharpie on my son's bottles and sippy cups but the marker always comes off.  I need to find another solution to label his stuff so that I don't have to constantly rewrite his name on his stuff.
Comments
comments