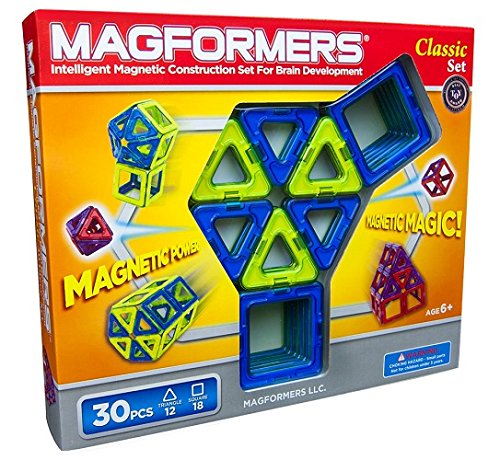 Have your ever heard of Magformers®? MAGFORMERS® use cylindrical neodymium magnets. Because of this unique shape, no matter how they're connected they always attract. Combine this with their strength and it means shapes can be laid flat on a table and pulled up to form different builds. Depending on the set you receive, you might be able to see the magnets or not through the transparent and opaque HQABS plastic.
When I was approached to review Magformers®, I jumped at the opportunity because I knew that they would provide hours of entertainment for my youngest son. I wanted some new toys to help stimulate his thinking skills and help him learn how to be creative. I let him pick out a set and he choose the Classic set. He was so excited when they came in the mail and he immediately wanted to open them so that he could play.
Let's Play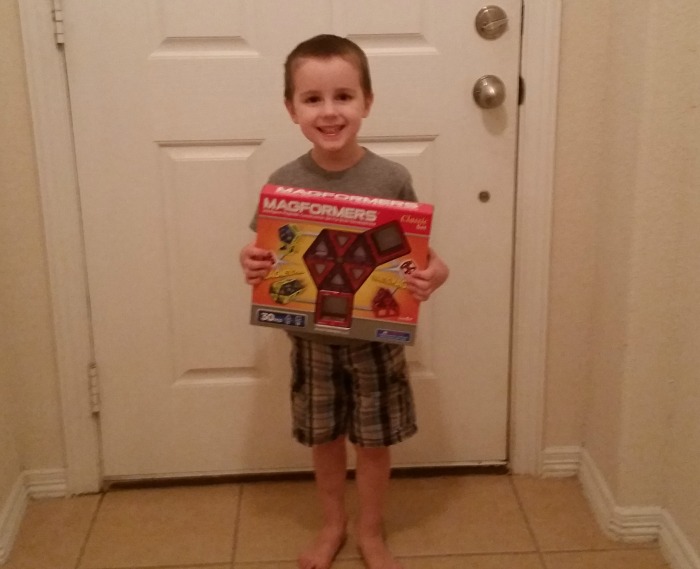 My youngest son asked daddy to help him with the Magformers®. So they took them out of the box and started playing. They had so much fun building fun projects from the creation book that came with our set. They even were able to build something flat and picked it up to create something new. Then my youngest son would crash the creation and they would start over.
Help Encourage Creativity and Gets them Interested in STEM
I love these building blocks because they are different than most sets that you find on toy shelves. They help promote STEM learning which is super important. We need the younger generation to enjoy science, technology, engineering, and math. Plus, they allow your child to use their imagination and stretch their creativity skills.
Create 3D Structures from 2D Nets
You child will enjoy building fun 3D structures from 2D nets using the 30Pc Classic Set. Follow the step-by-step idea booklet learning MAGFORMERS® pull-up tricks to build a 'magic ball', houses, towers and much more! Containing Classic colored squares and triangles in Green/Blue or Red/Purple that are ideal for little fingers to hold. See what your imagination will create!
These are would make a perfect gift this holiday season for kids ages 3 and up. You can buy Magformers® here and on Amazon. They do come in a variety of colors and you can even choose smaller or larger sets for your child.
Have you heard of  MAGFORMERS®? Do you think it is a toy that your child would enjoy?
If you find this article helpful and useful, please share it with your family and friends. Sharing helps Uplifting Families grow. Thank you for visiting.