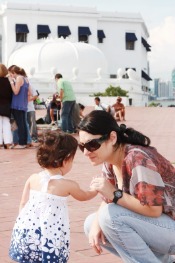 A few weeks ago my son moved to a new room at daycare and every since it seems as if he is throwing more fits and tantrums at home.  I know that there is a stigma attached to two year old children and parents must realize that all two year old's go through a phase often referred to as the terrible twos.  I never really cared for that name "terrible twos" because I feel that a child that is two years old doesn't have the necessary skills to properly communicate their wants, needs, and emotions.  I also, realize that most two year old's are acting out because they are frustrated because they don't know how to properly communicate.  So instead of trying to tell us what they want or at least attempt to tell us what the want, they are bound and determined to throw a fit to try to get their way or to make their point clear.  If you are like me, you think that your two year old is the cutest thing ever until they decide to throw a fit.  I love that my two year old is able to communicate most of his wants and needs; however, when he doesn't get his way he will stomp around, hit himself, or throw himself in the floor.  As a parent, this is very frustrating and part of dealing with a two year old.  It is important that you respond to your child in a positive manner to avoid further issues down the road.
Disclosure:  The opinions reflected in this post are my own and are based upon my own parenting experiences.
Why Do Toddlers Throw a Fit Every Time They Hear the Word No?
If you are the parent of a two year old, you probably already realize that they are constantly in motion, always getting into things that they aren't supposed, seem to have their mind made up, and have their own ideas of doing things.  They get into something that we don't want them to get into or they are caught doing things they aren't supposed to, which in a toddlers eyes is very often, we are constantly telling them no.  Your toddler has figured it out that you are always telling them NO and they get frustrated because it seems as if they can't do anything that they want to do.  Instead, of constantly telling them no you can give them choices.
Comments
comments