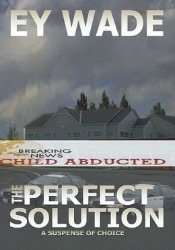 When I was growing up as a child, my grandmother was my primary caregiver. I loved spending time with my grandparents and never really knew what it was like to go to a daycare center. As a mom, it was very hard finding someone to care for my children. I was a stay at home mom most of my older children't life and had to put them into daycare when I was forced to go back into the workforce. I had my own fair share of struggles when it came to finding the right daycare provider for my kids. I ended up putting them in a daycare center because it was the most reliable place for them to go and I didn't have to worry about missing work when the babysitter was sick.
Disclosure: I received a complimentary copy of this book in order to facilitate this review. I never recommend products that I don't enjoy. This post contains links that earn me a small commission.
When Ey Wade, contacted to me read one of her books I was immediately drawn to "The Perfect Solution". It is a story about a single mother who was forced to find a new caregiver for her three year old son Brihn after his current babysitter decided to return to college. In fact, his current babysitter recommended a daycare center to Catrine and she went to check it out before enrolling her son. After touring the daycare, she was satisfied with the reviews and the center seemed like the perfect place for her son. It had teachers, cameras in each classroom, televisions lined the hallway and office so that the kids were closely monitored. Catrine was satisfied with what she saw and enrolled her son into their daycare program.