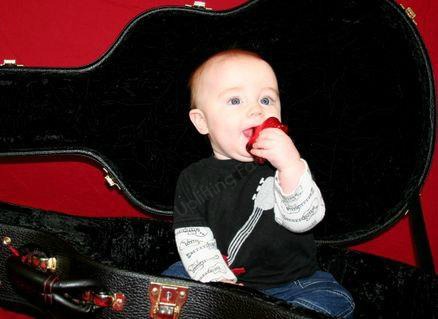 Many babies smile their first smile between six and eight weeks, but you'll have plenty of wonderful opportunities to photograph your child long before that first smile. Here are some helpful tips that will help you get great pictures of your baby and some advice about preserving these treasured memories for a lifetime.
Lighting
The best baby photos tend to be taken in natural light, when your child's gorgeous features will look soft and clear. However, opt for morning or late afternoon light rather than taking photos right around midday when the light is too harsh. This advice is particularly relevant for outdoor photography. In addition, it's worth noting that using a camera flash can sometimes lead to more washed out images, not to mention irritated facial expressions!
Setting the Scene
Think about what you'd like as a background. Some photographers use special backdrops in pastel colors or printed with cute cartoons, but a cot, outdoor location or cozy bedroom can also provide excellent backdrops. Anywhere that means something to you will help you create a touching image that your baby is sure to appreciate when it grows up. When you're thinking about backgrounds, don't forget that sometimes candid shots are the best, and in these circumstances you may not have time to create the ideal backdrop.
Getting your Baby's Attention
As photographers who also happen to be parents will tell you, it's not always easy to get shots that accurately portray your child's lovely personality! Getting down to your baby's eye level will not only attract attention but also help you to get clearer shots of your baby's face.
Capturing a Smile
Choose to take your pictures at a time when your baby is clearly happy rather than expecting your baby to smile on your schedule. It can be helpful to have a camera close by almost all the time to ensure you get a chance to snap the perfect shot.
Getting Creative Images
A macro lens or a macro function on a camera can provide beautifully detailed images of your baby. For example, you can snap images of those perfect shoes while your baby is sleeping, or you might take a shot of individual facial features (e.g. eyes and lips).
Don't Forget to Get Pictures That Involve You Too
If you're the designated photographer in the family, you might not notice that you're seldom in front of the camera in baby pictures. However, you're sure to want a good collection of pictures of you and your baby, so hand the camera to someone else every now and again.
Using your Photographs
Photos of your baby make wonderful gifts for relatives and friends. For example, you can have an ornament shop make personalized ornaments for a grandparent's Christmas tree, or have images printed on the front of festive cards.
At other times of year, your images can be given as gifts in beautiful frames or even printed on objects like mugs, pens and keyrings. There's no end to what you can do with your favorite baby photos!
About the Author
Amanda Meeks is a mom and amateur photographer. Whenever she has a chance, she likes to share what she discovers by posting online. You can find her informative posts on a variety of blogs and websites.