"*This review and giveaway was made possible by Double Duty Divas and Pampers.  I was compensated for my participation in this campaign, but all opinions are 100% mine.*"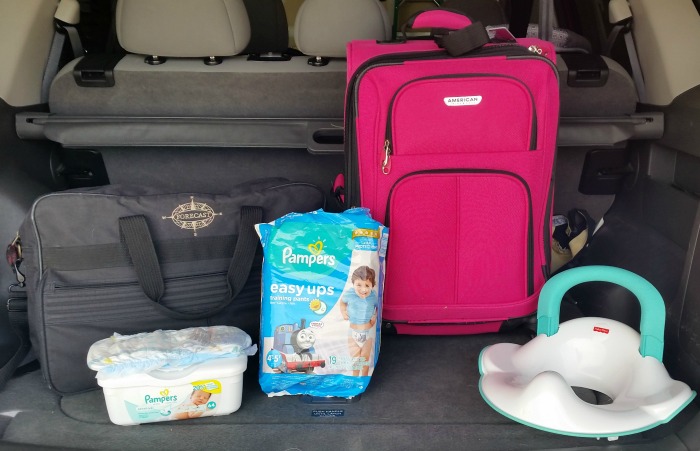 Are you currently potty training your child? With summer just around the corner, your probably looking forward to that summer vacation. Last summer, I decided to take an impromptu trip with my husband out of town and I was in the middle of potty training my youngest son. I know that some children get fearful when it comes to going to the restroom when they are out of their comfort zone (at home). Thankfully, I didn't have any issues with my youngest son last summer during our trip.
Today, I wanted to share a few tips on how to continue potty training your child while you are on vacation or planning a road trip.
Stop Frequently
I found that children often need to go potty more frequently so it important that you take them potty at least once every hour or two depending on how much they have had to drink. You have to remember that their bladders are a smaller and don't hold nearly as much liquid as you do. Plus, you don't want to have a wet car seat. You can buy piddle pads to put into the car seat if your child is adamant about wearing their big boy or girl undies.
Take Along a Potty Seat if Possible
I highly suggest that you take along their potty seat if at all possible. This will help your child feel comfortable using the bathroom in public or in the hotel room. If you can't take their potty seat with you, they do make travel potty chairs that make clean up much easier. However, they are often bulky and some of them are flimsy.
Encourage Your Child to Let You Know if They Need to Use the Potty
Always encourage your child to let you know if they need to use the potty. Of course, more than likely your child will alert you that they have to go potty when there isn't a restroom in site. This is why I mentioned earlier that you should make frequent stops so that you can take your child potty every few hours.
Have Your Child Wear Pull-Ups
Even if your are against your child wearing pull-ups such as Pampers Easy Ups, it is important to have your child wear one in case they have an accident. Simply explain that the road trip isn't your normal circumstances and that they need to wear one in case mommy or daddy can't get them to a potty in time.
Continue Your Reward System
If you are using a reward system for potty training, you will need to continue to use it on your vacation or road trip. You don't want to stop something that is working at home or interrupt your habits just because you want to go on vacation or a road trip.
Test Out Using the Big Potty Without Using A Potty Chair or Seat Prior to Going on Vacation
The big potty can seem overwhelming to a toddler because they often feel like they are going to fall into the toilet even if you are holding on to them. Before heading out on the open road, I highly suggest that you do a few practice runs without the potty seat especially if you can't bring it along. I taught my youngest son to put his hands on the big potty to hold on and to kinda lean forward. At first I had to help him onto the potty and hold on to him but now he has the hang of it so that he can do it himself (other than wiping after a bowel movement). Don't forget to teach them how to wash their hands and other toilet hygiene.
Teach Boys How to Potty Standing Up
I taught my son how to stand up so that he didn't have to be afraid of going potty. When I first was teaching him, I would pick him up and hold him over the potty so that his pee would go into the toilet. Now he is able to go potty on his own standing up, even on his tippy toes for the toilets that are bit higher off the ground. This has worked great for us and makes going potty in public so much easier.
Tell Other's That You are Potty Training
If you find a long line at the restroom as your child is doing the pee pee dance, you can often times explain to other people that you are potty training your child and that they need to go. Most people are compassionate enough to let you go ahead of them so that your child can go potty. Depending on where you are staying, you might want to consider forgoing the potty training until you get back home. If you are staying at a non-family friendly place, you might want to put your child in pull-ups or even diapers while still encouraging them to tell you when they have to potty. The pull ups or diapers will give you peace of mind and you will avoid cleaning up a bunch of accidents.
Auto Flushing Toilets
My youngest son was freaked out the first time that he used a public toilet that had automatic flushing toilets especially if it went off while he was using the potty. If possible, you can cover up the sensor with a paper towel or your finger while your child is on the toilet. I also know that my son was freaked out by the loud toilets. If it is scary for them, it is best to reassure them that it is okay and if possible cover their ears.
Don't Forget the Wet Wipes
Even though you aren't changing diapers, I highly suggest that you take along a package of wet wipes. They make cleaning up spills or accidents quickly and easily. I also use them after I have cleaned up my son's bottom after a bowel movement so that his bottom doesn't get chapped.
Schedule Traveling During Naptime or Bedtime
If you are able to choose when to travel, I found that it is best to travel during nap time or while they were sleeping. You can often get away with putting a diaper on them for sleepy time without confusing them too much. Traveling can be chaotic and you might not make it in time to the potty if your child  has to go.
Good luck continuing your potty training journey. Click here for more tips on potty training your child.
Here are a few items that I used when I first started potty training my son:
Pampers Easy Ups
Little Looster Step Stool
Fisher Price Perfect Fit Potty Ring
It's You and Me Against the Pee…and the Poop Too! book
Join the #DDDivas Pampers Easy Ups Twitter Party
Twitter Party Please join @Pampers on April 21st from 9-10pm EST as they host a Twitter Party with Dr. Laura Jana, pediatrician, award-winning parenting book author and potty training expert who co-authored to *Its You and Me Against the Pee…and the Poop, Too! RSVP  http://vite.io/doubledutydivas
Giveaway for Pamper Easy Ups Prize Pack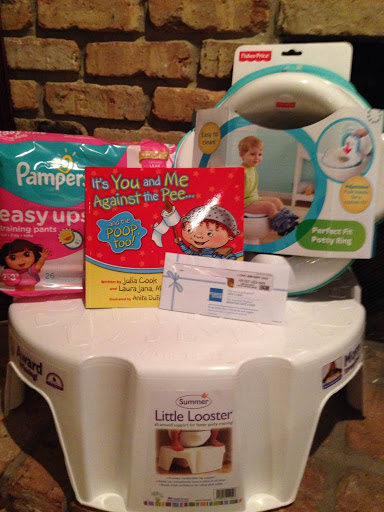 Now for the fun part!!!!! One lucky winner will win a Pampers Easy Up's Prize Pack. The prize pack includes:
Pampers Easy Ups
Little Looster Step Stool
Fisher Price Perfect Fit Potty Ring
It's You and Me Against the Pee…and the Poop Too! book
$50 Amex Gift Card
All entries will be verified. Void where prohibited by law.
Disclosure:
Uplifting Families
isn't responsible for prize fulfillment. This giveaway isn't associated with Facebook, Twitter, or any other social media platform.
What is your biggest fear when it comes to potty training your child?
If you find this article helpful and useful, please share it with your family and friends. Sharing helps Uplifting Families grow. Thank you for visiting.
Comments
comments