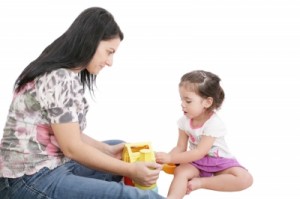 Yesterday when I went to pick up my son from daycare, he was playing and having a great time.  The teacher was letting all of the kids in his classroom play with puzzles and my son was trying very hard to get the puzzle pieces into the right spot.  It was fun to watch him play and learn a new skill.  I haven't considered buying him any puzzles but he does have a shape sorter in his toy box to play with.  He loves to figure things out and study them to see how things go together.
Disclosure:  This post is for informational purposes only.  Any opinions reflected in this post are my own and may differ from your opinion.
Babies Can Play With Puzzles Too
There are puzzles out there for every stage of development including young babies.  A younger baby may not realize that a shape sorter is a puzzle.  You can begin teaching your child where the pieces go and show them how to turn the pieces so that they fit into the matching shape.  A baby might not understand that they have to manipulate the pieces; instead, start out by allowing your child to show you where the piece goes by pointing to it.  I remember that I used to put the shape where it belonged and held it over the opening on the shape sorter.  Then I would let my child push the puzzle piece into the hole.   This taught them that the piece only goes into a certain spot.  Children learn by example and by playing.  As your child gets older, you can slowly introduce more puzzles into their play sessions.