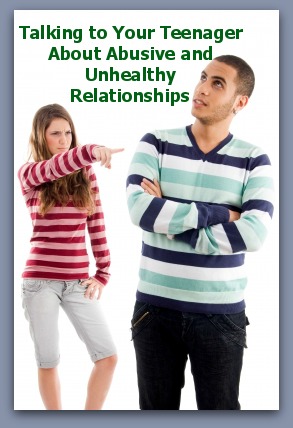 According to Loverespect.org, "nearly 1.5 million high school students have been a victim of physical abuse from dating every single year and 1 out of 10 students have been slapped, hit, or physically abused by their dating partner". These statistics are alarming but there is something that you can do as a parent. If you don't have a great relationship with your teenager, I highly suggest that you work on your relationship with them. Children who are confident aren't afraid to open up to their parents and discuss things going on in their lives. Plus, if you are communicating with your teenager on a regular basis, it won't take you long to figure out if something is bothering them or if they are being abused in any way. Today I wanted to share with you some tips so that you can talk to your teenager about abusive and unhealthy relationships.
Disclosure: This information is for informational purposed only. If you need additional help for your teenager, please seek help from a licensed counselor or professional. I received a copy of Erin Sulka's book for the purpose of facilitating this review. All opinions are my own.  
What Are Some Common Signs That Your Teenager is In a Abusive Relationship
Here are a few of the common signs and symptoms that your teenager or their friends are in an abusive relationship:
Ask questions if you notice that your teenager is trying to hide scratches, bruises, or other physical injuries. They might try to wear a long sleeve shirt in the middle of the summer to cover up an injury on their arm.
Isolates themselves from their friends or family members.
Acts differently when their dating partner is around.
Excessive text messages or phone calls from their significant other.
Makes up excuses or apologizes for the dating partner's behaviors.
If their boyfriend or girlfriend is constantly trying to monitor their every move, constantly calls them, checks their phone and reads your child's text messages, acts possessive and won't allow them to talk to their friends/family, constantly checks their social media accounts, ect.
Constantly accuses them of cheating, flirting, or talking to other people. Even if it is a platonic friendship with a friend of the opposite sex.
Their date might even make threats of suicide if your child tries to break up with them.
Talking to Your Child about Healthy Relationships
Teach your child how to have a healthy relationship by modeling this in your own relationships with your spouse, friends, family members, and children. Most kids learn by watching and modeling and if you aren't setting a good example, then you should work on your own relationship. Teach your children to set safe boundaries and expectations on how they want and should be treated in a relationship.
It is important to teach your child that most relationships in the beginning will seem perfect and over time things may slowly begin to change. Their partners bad habits and quirks will eventually start shinning though. When they start shinning though, your teenager should be able to easily recognize when the relationship no longer feels right. Usually, when a relationship started going sour when I was dating my gut instict usually tried to warn me. However, sometimes I didn't listen. I want to make sure that my children know that they should listen to their instincts, most of the time those instincts are correct and can help you avoid potential problems.
Don't be afraid to start teaching them at an early age. You can even teach a toddler how to say "please and thank you", which is a teaching them how to respect others and treat them with respect.
Explain the Difference Between a Healthy and Unhealthy Relationship to Your Teenager
You can even explain to them the difference in behaviors between a healthy vs an unhealthy relationship. Teaching them the difference can help them determine if their relationship with their partner is healthy or unhealthy. Always tell your kids that if they find themselves in an unhealthy relationship that it isn't their fault and reassure them that you love them. If they are having trouble getting out of an unhealthy relationship, you might have to step up and help your child by contacting the person's parents or even taking your own child to counseling so that they can have the tools that they need to remain strong and to successfully get out of the unhealthy relationship.
Love Should Not Hurt: Letting Go of the Pain to Live in Freedom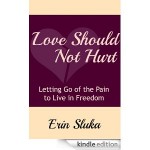 I had the opportunity to read Erin Sluka's book, from Parenting Healthy. I wanted to share it with this post because Erin was in an abusive relationship for a long time and finally mustered up the courage to leave the toxic relationship. She would put a smile on her face and try to hide the pain for a long time. As she is telling her story, you will see the same signs and symptoms that I mentioned above. Leaving an abuser is often difficult and it takes a ton of courage to follow through with your action plan. If you are stuck in unhealthy relationship, I recommend that you check out her book and a few months ago I wrote a post on how to get out of a difficult or unhealthy relationship. You can even use this book as an educational tool, read the book with your teenager and discuss the points of each chapter.
Like this book review? Click on the photo for more information about Erin's book.
Have you talked to your teenager about abusive and unhealthy relationships? Has your teenager been in an unhealthy relationship? If so, how did you handle it?
Comments
comments