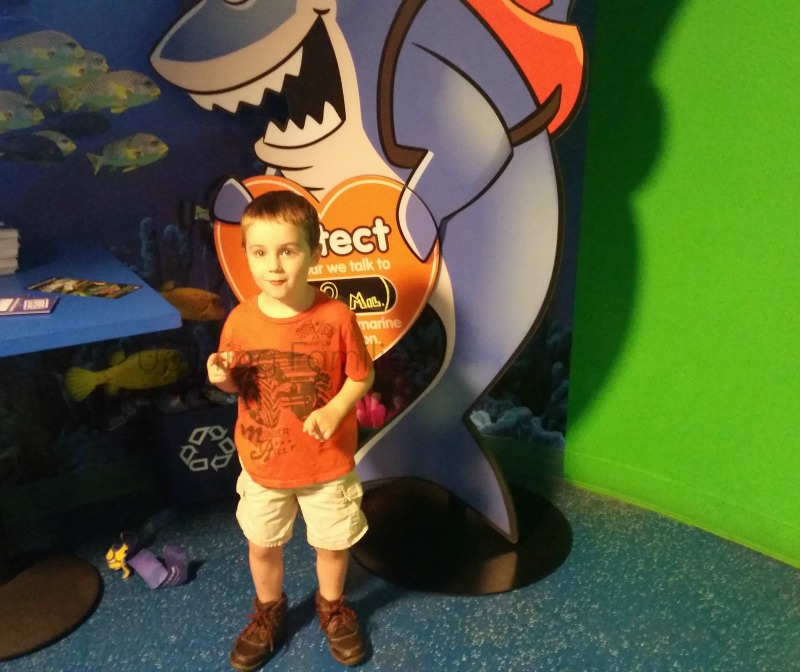 My youngest son loves animals and he has been impressed with learning about all of the animals at Sea World and the Fort Worth Zoo, I wanted to take him to the Sea Life Aquarium while we were in Grapevine, Texas. The Sea Life aquarium is located inside of Grapevine Mills mall next to Legoland® Discovery Center (you can read my review here). After we dried off  from playing in the splash pad Legoland® Pirates Beach, we headed over to the Sea Life aquarium to pick up our tickets.
Disclosure: My family received complimentary tickets to Sea Life aquarium in order to facilitate this post. All opinions are 100% my own.
The Aquarium is a great way to teach your kids about the animals under the sea. There are over 30 exhibits in this aquarium and it features over 1,000 different sea creatures. As you go through the exhibits, ask your child to point out animals that they already know. For those animals that they aren't familiar with, you can take the time to talk to them about the new animals. It is advised to devote at least an hour and a half for the tour especially if they are busy. If you are using this as teaching time, you might want to allocate some additional time.
Teaching Children About Our Oceans
Don't forget to talk to your kids about the importance of our oceans because without our oceans these beautiful animals wouldn't exist. Oceans cover over 70% of the Earth and it is up to us to protect our oceans. The ocean is responsible for bringing us rain water so that farmers can grow crops, trees in the forests, and helps maintain our drinking water supply. Plus, oceans produce a majority of the oxygen for our planet. Oxygen is needed by every human being and animal that lives on our planet.
Each animal in our ocean has an important role in our ecosystem. Animals such as fish and shellfish, help provide humans with food.
The ocean is also responsible for helping regulate the climate and it controls all of the weather patterns around the World. Since oceans cover over 70% of the Earth's surface, it is responsible for absorbing a majority of the sun's heat. Many scientists are concerned with global warming since our ocean is responsible for absorbing most of the suns heat. As the ocean absorbs the heat, it mixes the warm and cold water using the ocean's current.  The ocean's core temperature has risen at least 1.53 degrees between the year 1880 to 2012. While that may not seem like a huge increase, it is responsible for causing our icebergs to melt.
Our oceans are also responsible for producing biomedical organisms which help scientists research and develop new advancements in medical fighting technology including medications.
Our Tour of Sea Life Aquarium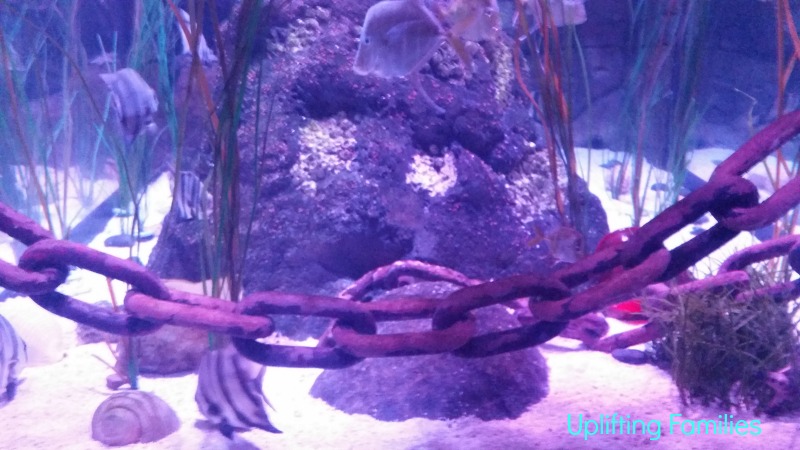 At the entrance table we picked up my son some silly sea glasses (I missed a photo of him wearing them). Then we headed off see the first exhibit. We were greeted by several different schools of fish. Did you know that fishermen around the world are taking too much of certain kinds of fish out of our oceans? There are several different kinds of fish such as cod, tuna, and even shrimp that are on the verge of becoming endangered or extinct because we aren't leaving enough in our oceans to reproduce naturally.
The Stingray's at Sea Life Aquarium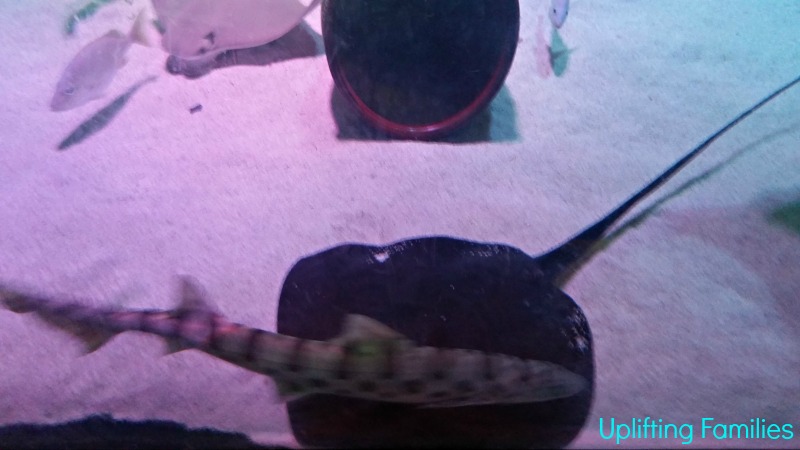 As we made our way through a few more of the exhibits, we came to a large tank that held several different types of stingrays and fish. At the Sea Life Aquarium, we learned that they leave the stingray's barbs in tact because they discovered that it actually harms the animal and it takes roughly a year or more for it to grow back. They have an area so that kids can peer into the tank from underneath the stairs that overlook the tank.
Sea Turtles
The next exhibit featured two sea turtles that Sea Life rescued. One of the turtles was very huge and had to weigh at least 100lbs or more. Sea turtles are a bit different than the turtles that you find on land. A sea turtle can't retract its head or feet into its shell. Sea turtles eat a variety of things on the ocean floor including shrimp, molusks, jelly fish, seaweed, crabs, sponges, algae, and snails. If they happen to eat trash that is along the banks of the ocean or anything they find that made its way to the ocean floor, it can cause severe digestive problems. I will share how children can help keep the ocean clean below.  Many of the sea turtle nests are protected so that the nests aren't disturbed to protect the life of sea turtles.
The 360° Underwater Ocean Tunnel
My next favorite exhibit was the 360° under water ocean tunnel. The tunnel made it seem like I was under the ocean floor right with the animals. You can see a wide variety of animals swimming all around you.
Jellyfish
We came around to the jellyfish exhibit and I was already impressed. They had the tank light up so that it changed colors. The jellyfish naturally took on the color of the lights in their tank. Check out my photo on Instagram.
Shark Mission
Then we headed upstairs where we found Shark Mission. They had several interactive projectors with information on the different types of sharks. Then we went over the tank and I discovered that we were over the huge tank of animals. You could look down through the floor and see them swimming below.
Seahorses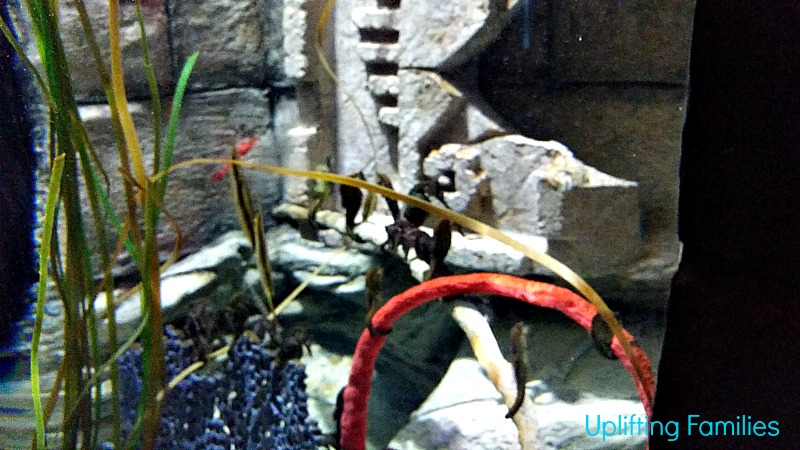 Seahorses are another one of my favorites. They are interesting creatures and the males actually care for the babies in their pouch. When we were there, we saw some very cute babies that we born a few days earlier. They were so tiny and they were reddish, pink compared to the older seahorse which were a brownish color.
Behind the Scenes Tour
We got to take the behind the scenes tour as they were currently working on a new exhibit and had a portion of the aquarium closed off. The new exhibit was scheduled to open on the 10th of July so it should be open now. The behind the scenes tour gave us a little bit of insight to show us how the animals were cared for on a daily basis. You could see the feeding schedule and we saw their food being made. We also got to see a glimpse of the pumps that are needed to maintain the huge aquariums. As we rounded the corner, we were greeted by a staff member who was showing off some of the starfish and some shark eggs. He even let the kids touch the starfish and eggs.
The end of the tour features a play ground for the children and a learning theater.
How to Teach Your Kids to Protect the Ocean
Here are a few things that you can teach your children to do in order to help protect our oceans:
buy recyclable products
pick up any trash that you find on the ground especially near the ocean
try to pick non-endangered seafood when you eat seafood
grow your own food at home or buy organic
buy items that reduce packaging
stop using plastic as much as possible
work on reducing your carbon footprint
buy organic sunscreen or use sunscreen with safer chemicals especially when swimming in the ocean
make sure that you buy any tropical fish from pet stores who catch the fish in small nets
tell your friends and family members about protecting the oceans too!
Tickets
Be sure to purchase tickets for online so that you can save 25% off. You must purchase your tickets a day prior in order to save the 25% off or tickets can be purchased at the admissions counter for full price on the day of your visit.
Tickets purchased online start at $12.00 (children 3 to 12) $15.00 (adults) per person. If you decide to purchase tickets on the day of your visit, it is $20.00 per person. Children ages 2 and under are free.  Also, if you want you can even purchase combo tickets which includes your entrance fees to both Sea Life Aquarium and LegoLand® Discovery Center. Purchase your tickets here.
Visit the Sea Life Aquarium website to learn if there is an aquarium near you!
For more photos from our visit, please Uplifting Families on Instagram.
What did you learn about our Oceans from this post? Have you ever taken your child to the aquarium?
If you find this article helpful and useful, please share it with your family and friends. Sharing helps Uplifting Families grow. Thank you for visiting.