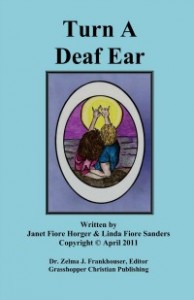 My daughter was born deaf and wears two cochlear implants.  While the cochlear implants have changed her life, she is still considered deaf and relies on sign language when her batteries or if there is something wrong with her implants.  It wasn't unheard of my daughter going without an implant for several weeks when she only had one implant.  We decided to get her a second cochlear implant before she got any older and give her the gift of hearing in both her ears.  Not only does the second implant add redundancy but it will help her be able to hear directional sounds easier.  As my daughter gets older and turns into a young woman, I have always wondered how dating would be for her.  Last year she started dating an young man, who has taken the time and interest to learn sign language so that he could communicate with her when she had trouble hearing.   When I was presented with the opportunity to review the book "Turn a Deaf Ear", I immediately wanted to read it.
Like this review? Click on the photo for more information about Turn a Deaf Ear.
Disclosure:  I received this book in exchange for an honest review.  The opinions expressed in this book are 100% my own and I would never recommend something that I didn't enjoy.  This post contains affiliate links.
The story line is very similar to my daughter and her relationship with her boyfriend even though it is a fictional story based on real facts.  The first part of the book was kinda slow but it helps build the story line and the family traditions.  Once you get to the middle of the book, you will meet Nick's friend from work, John, who is deaf.  Nick brings him home to have dinner and to meet his family.  Linda couldn't take her eyes off her brother's friend and immediately felt a connection to John.  A few days later Nick approached Linda and asked if she was interested in going on a date with John.  She accepts John's offer and a year later they decide to get married.
Linda tells her mom about her plans to marry John and her mother is totally against it.  In fact, she starts saying bad things about John and his language.  As a mom, this is probably something normal for people who don't understand about the deaf community.  I never thought about this until I read this book because my daughter is deaf and in high school.  My daughter is also very fluent in sign language, which is something that the audiologists wanted me to take away from her after she got her first cochlear implant.  However, as a mom I wanted to give her the opportunity to learn two languages and expand her career opportunities.
Linda's mom finally apologizes to Linda for her behavior and attitude towards John.  I am happy that his mom apologized to her because you can't always determine in advance who you are going to fall in love with.  I hope that my daughter doesn't run into this situation with her future in-laws.