Stay Cool When Your Child has Toddler Tantrums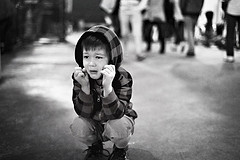 If you've ever heard a toddler throwing a tantrum, you'll know that it's very hard to ignore. You'll do everything you can to make your child stop and give everything for a few moment's peace. You might start to think that your kid is throwing a tantrum on purpose just to ruin your day, but that's not true. I've had my share of toddler tantrums over the years and trust me,you'll learn how to deal with them too.
Why do toddlers throw tantrums anyway? Well, since toddlers can't fully express themselves yet, they throw tantrums to express their frustration. By throwing tantrums, your child lets you know that he is hungry, that he feels hot or needs a diaper change. When you look at tantrums from that perspective, they don't seem so bad after all.
All the same, you want to give your ears a break from all the screaming, so try out these tips the next time your child throws a tantrum.
Establish a routine with your kid so he knows what's coming. Set specific times for feeding, playing, sleeping and other activities. Also, be prepared. Bring snacks or toys so when your toddler is hungry or bored, you can prevent tantrums before they start. You may also want to develop your own sign language with your kids so the next time he needs to eat or poop, he can communicate his needs easily. Also, the next time your toddler starts throwing one of his toddler tantrums, distract him. Take him to the playground and let him play with the other kids. Be sure to let your kid know that you are proud of him. Give your kid a hug when he shares his toys with the other kids. Encourage good behavior by rewarding your child with hugs and kind words.
Photo Credit: Flickr
Keep your Child Safe
Keep your child safe. That's what parents do. But how can you keep your child safe when there are so many pitfalls? Even if you keep your child at home, there are still so many ways for him to get injured.
It is so important to childproof your home. A child's security device can keep your child away from the emergency room (a place you and I would not want to visit). Use safety latches and locks, safety gates, smoke alarms, window guards, corner and edge bumpers, outlet covers and more. Invest in child safety devices before it is too late.
Give Yourself a Break
My best advice for first-time parents is to cut yourself some slack. You might make mistakes every now and then. You might not be able to respond perfectly when your child throws a tantrum. Your kid might still bump his head even though you have childproofed the house. But give yourself a break. Nobody's perfect. Even with imperfect parenting, your child can still have everything he needs in life. So don't sweat the small stuff. You're doing just fine.
How did you handle your toddlers tantrums?
Comments
comments