"I participated in an Influencer Activation Program on behalf of Influence-Central for Virgin Mobile. I received a sample device to facilitate my review and a thank you item for participating."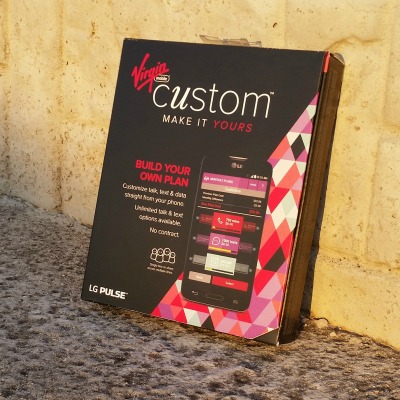 My daughter was in the 6th grade when we decided to get her a cell phone. We got it for her because she is deaf and we wanted a way to keep up with her busy after school activities. The phone that we got her was a basic phone. It was limited to voice and text messaging only. Now that my son is in middle school, he started asking for a phone too. If you walk into a cell phone store recently,  you are probably over whelmed with the amount of phone choices and over 90% of them are considered a smart phone. The price tag on most smart phones is $200 and up plus you are locked into a contract for a minimum of 18 months depending on the cell phone carrier. My kids have been begging me to get them a smart phone because most of their friends have one. Smart phones are popular among tweens and teenagers because then they have access to data, the Internet, games, and social media applications. Do you know any tweens or teenages who have a smart phone?
Give Your Child a Phone without the Hassle of Worrying About Their Usage
Giving your child their own cell phone gives you piece of mind knowing that they have a way to communicate with you or the ability to 911 in an emergency. Of course, if your child has their own cell phone you probably already know that you will have a tough time managing their talk, text, and data usage.  Especially, if you have a shared family plan with specific limits on talk, text, and data. Overages can be very costly and overwhelming. Then comes the worry of your child having complete access to the Internet, games, and social media without constant supervision. This is one of my biggest concerns about letting my children have a smart phone.
Virgin Mobile Has Hassle Free Plans and Rich Parental Controls
Virgin Mobile created a hassle free plan that you can customize so that you can be in complete control of your family or  your child's cell phone usage. I love that they offer rich parental controls. The parental controls are easy to set up on your child's phone. You can even give them as much or as little access to their phone as you want. I was sent an LG Pulse phone to test out and use to facilitate this review. The LG Pulse runs Android operating system and I was impressed with the phones functionality. I was able to easily figure out how to operate the phone and installed a few apps on it so that I could test it. It even has better sound quality than my high end device.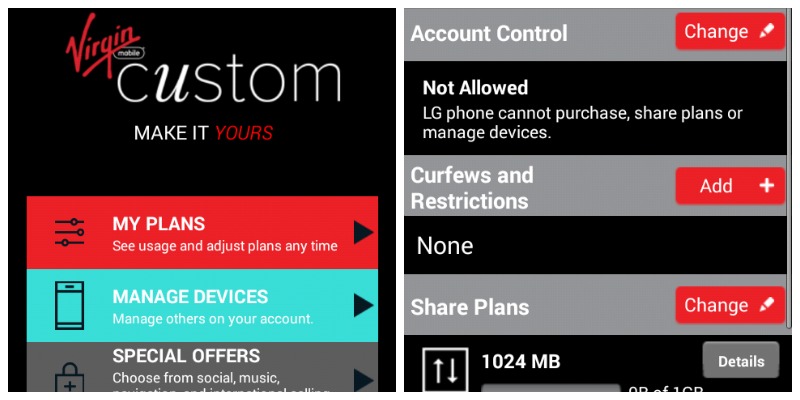 To set up your child's phone simply go into the Custom icon in the apps section and choose manage options (see photo above). Choose the device that you  want to set up with parental controls. I like that you can set up restrictions and curfews so that your child can only use their phone during set hours. You can easily block access during school hours or after a certain time in the evening. If you are worried about them going over their monthly usasge limits, you can even set up how much talk, text, and data that they can use. If you end up with a family plan, you can customize it so that one person can have more data, ect. You also can change things around mid month if you need to reallocate the plans resources. However once your child reaches their set limits, they can no longer access voice, texting, or data. Don't forget to add your home wifi to your child's device. This will also cut down on the amount of data that they are using on their cell phone.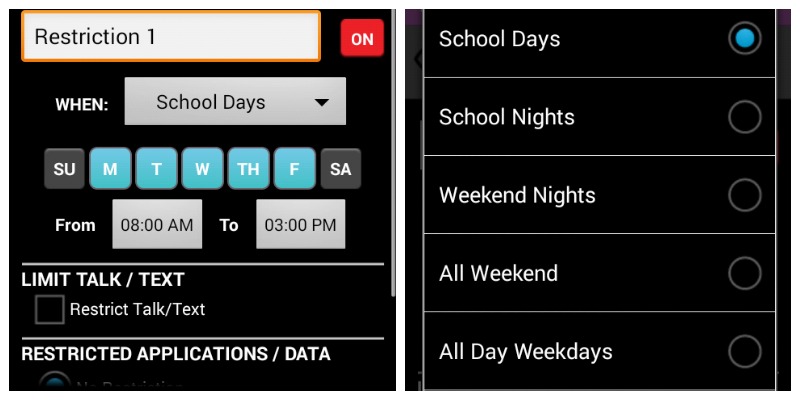 The LG Pulse Has a Guest Feature that Limits App Usage (Another Parental Control Feature)
I also love that the LG Pulse has a guest feature, this is a great way to set up your child's profile when you give them their phone. You can customize it so that they can only have access to the apps that you want. You can even remove the phone option. This is one of my favorite features about the phone, since I  have a toddler/preschooler that likes to play games on my phone. I am always worried that my son is going to accidentally dial 911 while playing on my phone. With this phone, I can give him my phone in the guest option and he can play the apps that I have allowed him access to. The guest feature has its own password so you can safely give it to the kids the password and they can't access any of my personal files. Again, the guest feature will allow you to set up your child's phone so that they can have access to ONLY the apps that you want to allow.
Look For Virgin Mobile Devices at Walmart
Virgin Mobile USA , allows us to activate up to five lines at an affordable rate, as little as $6.98 per line per month, all while controlling the exact amount of data and minutes provided. Virgin Mobile Custom gives us the opportunity to make alterations to your plan at any time, any number of times, right from our own device within the monthly billing cycle, allowing us to tailor your plan to your individual family needs. You can find Virgin Mobile devices at Walmart.com and select Walmart stores. Plans are easy to configure. They even have unlimited plans available, including access to Music, Facebook, Pinterest, Instagram, Social, and Roaming.
Great Service, No Contract, No Long Term Commitment
If you aren't 100% sure that you want to give your child a phone, Virgin Mobile USA is a great place to start so that you don't have to buy your child an expensive device and be locked into a long term contract. The LG Pulse is $79.99 so it is easy on the pocket book if your child ends up losing it. The plan is prepaid so you are only paying for service that your child uses and it can be cancelled at any time without worrying about cancellation fees.
LG Pulse Details
1.2 GHz Dual-Core Processor
Long-Lasting 2,100 mAh Battery With Up to 17 Hours Talk Time
Up to 32GB microSD storage
Vibrant 4.5″ display with Gorilla Glass 3
5 MP Camera with LED Flash
VGA Front-Facing Camera with Light Frame
Bluetooth 4.0
Android 4.4 Kit Kat OS
For more information, visit Virgin Mobile's website or connect with them on Facebook or Twitter.
Does your child have their own cell phone? Do you have strict parental controls available to monitor your child's cell phone activities?