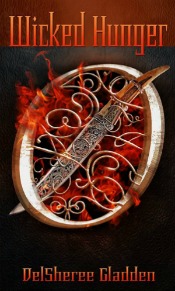 Reading books is a great way to relax and wind down in the evenings.  In fact I usually spend about 30 minutes to an hour each night reading books before drifting off to sleep.  I love connecting with the characters in the book.  As a reader, I am usually a sucker for a book that has an interesting cover photo.  I realize that most people often tell you not to judge a book by its cover and since I started reading about a year ago, I have tried not to pick a book solely on it's cover.  Instead, when I am browsing for a new book to read I often look for good book reviews.  I was given an opportunity to review "Wicked Hunger" by DelSheree Gladden.
Disclosure:  I received this book in exchange for a review.  All opinions of this book are 100% my own and I would never recommend a book to my readers that I didn't enjoy myself.  This book is perfect for a teenager, young adult, or the young at heart.
Like this review? Click on the photo for more information. In fact, DelSheree updated to the cover for her book since I posted this review.
Vanessa, she likes to go by Van, is a 15 year old girl who just wants to have a normal life.  After school, she works at a local dance studio to keep her active which helps keep her hunger at bay.  Most of her friends at school doesn't know that she lives a secret life.  She is forced to constantly lie to her friends and pretend that she is a normal teenager.  They don't realize that she has a strong urge to hurt or kill people.  As she is nearing her 16th birthday her hunger starts getting stronger and the urges to harm someone is slowly increasing.  Zander, her brother, warns her about her growing hunger.  He wants her to try to keep her hunger in control.