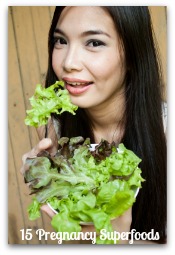 Pregnancy isn't the time to skimp on nutrition.  In fact, while you are pregnant you should eat a variety foods healthy foods to help support your growing baby.  While you are pregnant, your baby will take all of the important nutrients that your baby needs before you even get nutrients from the food that you eat.  Your body does a great job ensuring that your baby is getting plenty of vitamins and minerals for proper growth and development. When you neglect getting enough vitamins and minerals for your growing needs, your body will tend to crave the nutrients that you are missing.  Not getting enough vitamins and minerals can be unhealthy and can lead to problems for you and your unborn baby if left untreated. When you aren't getting enough nutrients from the foods you are eating, then your body will begin tapping into any stored nutrient reservoirs that you have available in your body, leaving you at risk for nutritional deficiencies.  It is important to take a pre-natal vitamin while you are pregnant or nursing.  Here is a list of 15 pregnancy superfoods that are packed with plenty of vitamins and minerals that you and your growing baby need.
Disclosure:  This post is for informational purposes only and shouldn't replace talking to your doctor about proper nutrition.  
Salmon – Salmon is very high in DHA and provides essential Omega 3 fatty acids which helps promote brain growth in your baby.  This type of fish is low in mercury; however, it is important that you don't eat more than 12 ounces of Salmon each week.  Eating too much mercury can be dangerous to your unborn baby.
Broccoli – This vegetable is packed with lots of great nutrients.  It is packed with vitamin C and can help with iron absorption when eaten with iron rich foods.  Broccoli is packed with fiber which helps ease symptoms of constipation.
Dried Beans and Lentils – During pregnancy, women need to eat an additional 10 grams of protein each day.  Beans and lentils can easily be added to meals or dishes, especially, soups, rice, or salads, to increase the amount of protein in your diet.  Beans and lentils are also a great source of folate, which helps for prevent neural tube defects.