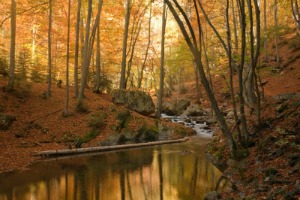 Are you tired of the summer heat?  I know that I am, in fact, I am looking forward to the cooler weather.  Summer officially ends on September 21, 2013 and fall begins on September 22,2013.  Fall is just a few days away and summer will be officially over in a few days!  Most of the kids are back in school and they are busy learning new things, football season is in full swing, and the holidays are getting closer.
Disclosure:  This post may contain affiliate links.
I decided a few days ago that I wanted to share with you a few things that I enjoy about fall.  My son has been begging me to go outside and play.  I want to take him outside but I am not a huge fan of sitting outside in the heat so I am ready for some cooler weather.  The heat doesn't seem to bother him as much and he would play outside for hours at a time if I let him.
Cooler Temperatures
As the leaves begin turning different shades of color, we are reminded that fall is on it's way and fall generally brings with it cooler temperatures depending on where you live.  In Texas, we have a few more weeks of hot weather before it gets cooler.  I love it when it is cool enough outside so that I am able to open the windows and let in a nice breeze.  Of course, since I have moved back to Texas I don't open my windows very often due to my allergies but I do enjoy spending more time outdoors with my family.  I am hoping that it cools off over the next few weeks so that me and my youngest can spend some time outside playing.
Halloween
I am looking forward to watching my son go trick or treating again this year.  He has grown so much since this time last year.  I haven't decided on a  Halloween Costume that I want to get him yet but I have some time to figure it out.  I also enjoy seeing the other kids dressed up in their cute costumes. You can't forget about all of Halloween candy either.  When my kids bring it home their candy bucket, I always raid their candy bucket and grab a few of my favorite items…opps I just told off on myself.  😉