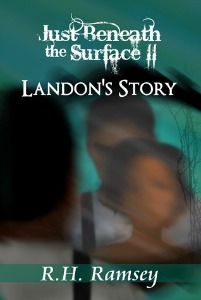 I wanted to share a book with you that I read a few weeks ago, Just Beneath the Surface II.  I read Ramsey's first book about a year ago and I love how she is able to weave tough subjects into her writing.  Most author's don't want to share deep subjects such as abusive relationships, controlling behaviors, cheating, unhealthy relationships, mental and physical abuse.  I am thankful that I had the opportunity to meet Rhonda Ramsey and to read her books.
Just Beneath the Surface II was an eye opener because there are so many people who don't know what it is like to experience a healthy relationship including the younger generation.
When you meet Landon, you will seem drawn too him because handsome, charming, well-educated, and he has tons of money.  As the story unfolds, Ramsey will start to peel the layers off and reveal the deeper, true side of Landon.  He meets Seven, a wild, crazy, unruly girl, who is charmed by Landon's generosity and caring nature.  In fact, I think that Landon see Seven as the girl that he can try to change but in reality we all know that you can't change a person unless they are openly and willing to change for themselves.
Like this review? Click on the photo for more information about Just Beneath the Surface II Landon's Story.
Seven is attracted to his charming personality and starts dating him.  After dating him for a while, she finds out that he isn't so charming.  In fact, he is controlling and mentally abusive.  When Seven tries to move on from the relationship, he makes promises that he won't keep for long.  This is how most abusive relationships happen in real life.  The abuser will act out,then apologize to their victim, and make promises to change their behavior.
While this is difficult content to read, especially, if you have been in this type of unhealthy relationship it bring back a flood of memories.  Ramsey does a great job portraying the reality of describing the realities of a very difficult subject.  As a parent, I hope that my kids don't find themselves in an unhealthy relationship and if they do I hope that they will be smart enough to get out.
I have had my fair share of relationships that were similar to Landon and Seven's relationship.  I am thankful that I was able to move on and get out so that I could be with someone who loved me unconditionally and show me what a healthy relationship is like.  It took God changing me from the inside out and giving me the patience to wait for the right relationship.
I want to thank Rhonda for giving me the opportunity to review her book.  While this is a fiction story, mental abuse and controlling behaviors happen in everyday relationships including teens who are just beginning to date.  If you find yourself in a relationship, described in this book I want you to remember that this isn't your fault and there is help available to you.
Don't forget to check out my review on Just Beneath the Surface I too.
About the Author:  R. H. Ramsey is a married and has two children.  She was a military wife for 8 years and found herself moving from Texas, to New Jersey, to the midwest.  Rhonda has two self published titles and several completed novels.  For more information or to connect with R.H. Ramsey please visit  RH Ramsey Blog, Facebook, and Twitter.
Disclosure: I was given a free e-book of Just Beneath the Surface II in exchange for this review.  The opinions reflected in this review are my own and may differ from your own opinions of the book.
Do you know anyone in an abusive relationship?