Are you need some great gift ideas for your baby?  As you know babies don't need very many toys, especially during the first four months.  Once your baby turns 4 months old, he or she will need to begin spending time on their tummy to help develop their motor skills and strengthen their core muscles.   Even if your child isn't quite ready to play with the toys, babies are always interested in looking around and exploring objects around them.  Playtime is also a great way for parents to encourage their infant to enjoy tummy time.  Check out these great early learning toys that help babies learn and develop their motor skills.
Disclosure:  I did not receive compensation for this post and all opinions are 100% my own.  This post contains affiliate links and I do receive a small commission from any items that you purchase.
Baby Rattles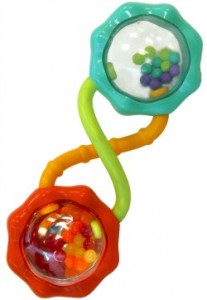 Rattles are a great way for your child to learn how to grasp items, pass them back and forth between their hands, and they are a great chew toy when your baby begins teething.  Parents can use the rattle to make noise.  The rattle can be used to help your infant develop their ability to turn and look for things.  When your baby finds the rattle, shake it so that your baby is rewarded for finding the rattle.  They are watching you and learning that they can make noise while playing with the rattle too.  The rattle can also be used to teach your infant how to turn towards the sound of the rattle.  Also, try placing the rattle in front of your baby while he or she is lying on their tummy and get your baby to try to reach for the toy.  Once your baby is old enough to hold the rattle in their hands, they too can learn how to shake the rattle to get it to make noise.
Teething Toys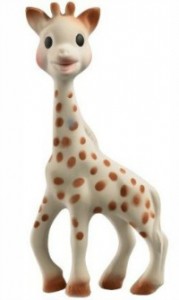 Babies often begin teething around 4 to 6 months old and will need some toys that are safe for them to chew on.  Teething toys are great for helping your baby relieve sore and painful gums without the use of harmful chemicals or drugs.  In fact, most of the teething toys can be put into the freezer or refrigerator which can help numb and provide comfort for your baby's gums.  When looking for teething toys, it is important to choose toys that don't contain BPA which is a harmful to babies and young children.  Teething toys not only help the discomforts of teething but it also helps babies develop their oral motor skills.   Amber teething necklaces are fairly new and I have heard other moms say that they work great and help relieve teething pain.  I personally never heard of them until I started blogging a year ago.  If you plan on letting your baby use an amber teething necklace, ensure that you are supervising your child closely because they are chocking hazard and your child could accidentally strangle themselves.
Comments
comments