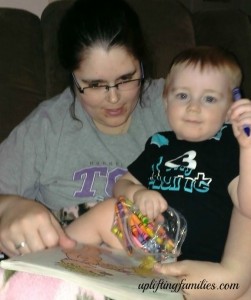 Spending time with your children, especially, one on one time is important and makes them feel loved.  I have been trying to make sure that I spend time with my toddler because he is growing up way to fast.  I have a hard time getting down on the floor to play with him (due to my chronic back pain) so I have to be a bit more creative and find activities that work for me.  He loves to "draw", which is his favorite thing to do these days.  So I scooped him up into my lap and grabbed the coloring book.  I asked his older brother to bring me the crayons in his bedroom so that we would have plenty of colors to choose from for our coloring project.
Disclosure:  The opinions reflected in this post are my own and may differ from your own opinions.
I flipped through the coloring book and tore out a page so that my son could "draw".  He took a crayon out of the plastic bag and started to draw on the page that I picked out for him.  Then he took a crayon out and handed one to me.  He wanted me to color with him.  It has been a long time since I have colored in a coloring book.  So we ended up coloring on the same page together.  After we finished coloring the top side, we flipped it over and began coloring the other side of the page.  My son did very well and colored in my lap for a long time.  I really enjoyed spending time with him coloring.