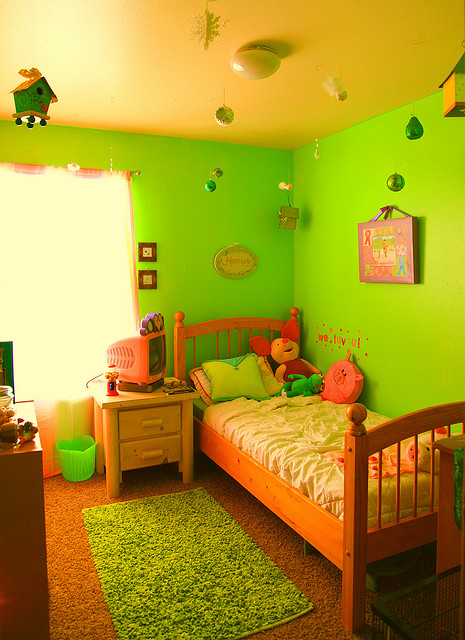 The festive season is upon us again and there couldn't be a better excuse to decorate the house with beautiful lights and colourful baubles; it is also a fantastic time to get the paint out and embark on a different kind of decorating!
Since children are often the focus at this time of year, it seems highly appropriate to give their bedrooms a fresh new look, just in time for the festivities. Everyone can get involved and the children will have a great time helping you choose the theme for their room and putting everything together.
Murals
Murals are a great choice for a child's room and they can be designed to match a specific piece of bedroom furniture  – for example, children's four-poster beds can be situated in front of walls decorated to look like an extravagant castle bedroom, with a window looking out over a fairytale land; car-shaped beds might be in front of walls that have been decorated to look like race tracks, with scores of screaming fans on either side. A really fun idea is to paint one wall white, with the others in a color of your choosing, and let the children decorate it themselves in any manner they choose; you can elaborate further on this by using chalk paint that will let your child draw, wipe and draw again, as often as they wish.
Have Your Child Help Design Their Bedroom
Making a bedroom appeal to a child's passions is especially important, so ensure that they are able to offer plenty of input in the design of their room, perhaps ask them to draw you some pictures of what they want. The architect will undoubtedly love a big space to create and build amazing structures and cities, so a minimalist room with plenty of storage is probably the ideal solution for them. The budding astronomer may well enjoy helping you paint the ceiling and walls with glow-in-the-dark paints to imitate the cosmos, or the solar system, or anything else that fires the imagination. The book worm will probably appreciate a snug cubbyhole, complete with a giant bean bag and bookshelves to wile away a fantastical afternoon or two.
Allow Your Kids to Design Their Room Within Your Budget
Naturally the most important item of furniture to give consideration to is your child's bed. Whether you're simply replacing the bedding or buying a completely new bed, it is a good idea to think practically about factors such as price, style and whether or not you want something with added storage for smaller rooms, or that will grow with your child. If possible, discuss with your youngster what they would like and see if there is a way to facilitate their design ideas whilst also sticking to your budget. This is a great opportunity to teach your child about money and budgeting. Many people find projects that they can upcycle or repurpose so that they can stretch their budget even further. Don't forget to check thrift stores too!
The most important aspect to this whole venture is ensuring that everyone enjoys themselves and that your child is pleased with the end product. Hopefully this post has helped give you some inspiration; have fun with it and play around with ideas, it's amazing what you can achieve with a little imagination and some time together!
Photo Credit: D Sharon Pruitt via Flickr Creative Commons
Do you allow your children to help redecorate their room?