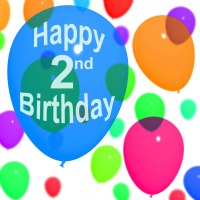 Wow, I can't believe it has been two years since I was impatiently(mommy was ready for you to be here) awaiting for you to arrive.  I remember when I was on my way to my final doctors appointment; however, I didn't know that it would be my final visit as a pregnant mom.  I was prepared for you to come after my due date despite all of the Braxton Hicks contractions that made me think that you would come any day.  With your brother, I the doctor discovered that I  had low amniotic fluid when I got towards my due date with him.  My doctor ordered an ultrasound to make sure that you still had enough fluid surrounding you.  The weekend before my scheduled the ultrasound to check on your fluid levels  you were performing a few last minute flips in my stomach.
As the ultrasound technician was scanning I noticed that she all of a sudden had a worried look on her face, it was when I realized that something was not right and immediately knew that something wrong.  Your gymnastic events a few days earlier you decided that you wanted to turn into the breech position, which meant that you were no longer head down.  In fact, on the previous Friday when mommy's doctor checked mommy for signs of labor you were head down.
Mommy knew immediately that the news of your new found position wasn't good a good sign and I knew that I was going c-section.  Mommy didn't expect that I would have to surgery in order for you to make your entrance into this world.  However, mommy would do anything including having surgery to make sure that you got here safely.  Mommy's doctor scheduled my surgery a few days later.   When mommy left the doctor's office, I devastated but at the same time I was excited because I knew that I was holding you in my arms in a few days.