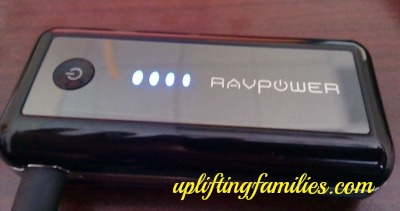 My husband had to get a new phone a few months ago because he was having technical issues with his phone.  In fact, it would randomly turn off and he wouldn't realize it most of the time.  Several times, I had a hard time getting a hold of him because his phone randomly turned off.  Thankfully, our cell phone service provider replaced his phone and gave him a refurbished phone at no cost.  After setting up his new phone, he realized that the battery was dying faster than his old phone.  He travels on a regular basis so he wanted a way to charge his phone on the go.  In fact, he said that he used it on the airplane last week.
He like the Ravpower Lipstick charger that I received before Christmas last year.  He mentioned that he wanted one for Christmas. His mother ended up finding him on for Christmas and he didn't like it.  It said it took forever to charge his phone and he wanted one that had more power.
RavPower has awesome customer service and followed up with me in January to ask me how I was enjoying my portable cell phone charger.  I told them that I loved it and that I use it frequently.  I jumped at the opportunity when they asked me to review another one of their larger external battery packs.  I let my husband test it out since he didn't like the other one that he received at Christmas time and I wanted him to compare the two battery packs.
He loved that the battery pack was compact, light weight, and it fit perfectly in his pocket.  My husband usually has both pockets full.  In fact, he typically carries two cell phones,  keys, guitar picks, and change in his pockets on a regular basis.  The RavPower Luster 6000mAh is the perfect size and it weights 5.05 ounces.  It is a top rated external battery pack and can extend the life of your cell phone battery so that you can continue to talk, text, listen to music, check your email, and use the apps on your phone.
My husband said this charger adds roughly 1.5 charges to his cell phone (HTC One X+).  It also charges faster than the 2600 charger that he received from Christmas.  The carrying case that comes with your purchase will prevent the battery pack from getting scratched up while in your pocket.
The battery RavPower Luster 6000mAh pack comes in 4 colors: Pink, Gold, Blue, and Black.  It comes with a unique LED status bar so that you can easily monitor how much charge is left on your battery back.  My favorite feature is the flashlight that is built into the charger.  A flashlight can come in handy if you are stranded on the side of the road, struggling to find your keys in your purse, or  for your safety in dark places.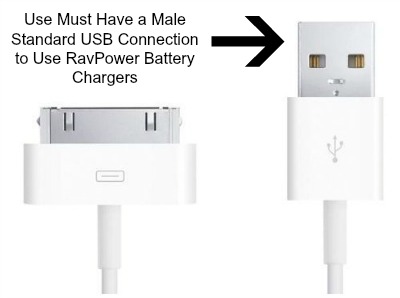 Ravpower chargers are compatible with most cell phones on the market.  It comes with a USB to mini adapter which is the new standard that fits most of the popular cell phones on the market.  If you have one of the older iPhones or a phone that has a different adapter, you can use your cable that came with your phone as long as it has a male standard USB end(see photo).
This is a must have essential that all smart phone users should carry with them throughout the day.  You will never have to worry about your phone running out of battery power throughout the day and you won't be scrambling to find an outlet to charge your phone, which can be impossible if you are out shopping or at the ball field all day long.
Disclosure:  I received a Ravpower 5600 in exchange for this review.  All opinions are mine and may differ from your options. This post contains affiliate links.
Like this product, click the photo at the top of the post for more information.
Do you have a portable battery pack for your cell phone?