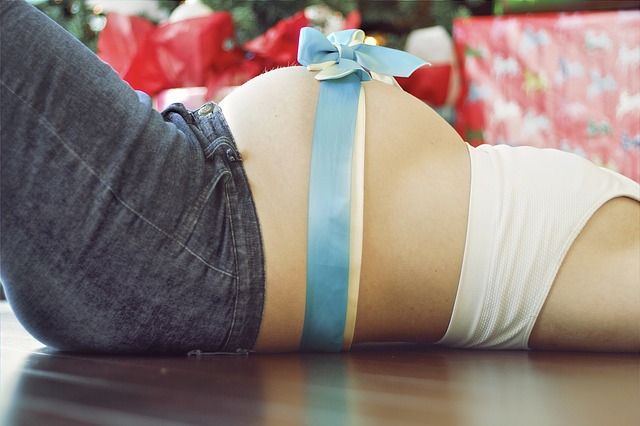 It is hard to believe that this time 4 years ago, I was very pregnant with my third baby. Time has gone by so quickly. When I was pregnant with him, I sorta felt like a new mom all over again because it had been over 9 years since I had a baby in my house. After we found out that we were expecting a boy, I was excited to go register for baby gear because people were already asking me for a list of stuff that we needed. One afternoon, we finally went to several different stores to register for baby stuff so that people had several options to choose from depending on where they lived. While roaming through the baby isles, I was amazed at all of the cool products that they had on the market and it was kinda overwhelming. Things have changed drastically since I had my older son in 2000, I had most of these items already on my list and didn't have to buy a ton of things with him. Of course, I got rid of most of it a few years after I had him so when I found out that I was expecting I had to buy everything all over again.
Disclosure: This post may contain affiliate links.
Today, I wanted to share with you 15 new mom must haves to get you through your baby's first year. Don't forget to add them to your baby registry or order them today.
Infant Car Seat Travel System
This is the one thing that I always tell moms to splurge on because you can not put a price tag on your child's safety. I remember when I had my daughter, I bypassed getting the travel system simply because I had access to my sister's old car seat (at the time they were about 5 years old) and I really didn't have the money to purchase anything new. I quickly learned that it was a pain to take her in and out of the seat every time that we went somewhere especially if she was sleeping. When I had my boys, I opted for the infant car seat travel system because it included the infant car seat and the stroller all in one package. I loved that I could easily get the car seat in and out of the car without disturbing my baby. Most of the time my babies enjoyed the car ride and they would fall asleep. There are a ton of travel systems on the market to choose from. I used my infant car seat until my youngest was around a year old before he got way too heavy to carry around. Plus, he was getting close to outgrowing it anyhow.
Moby Wrap
Most babies during the first few weeks of life enjoy being held frequently and if you have other children at home to attend to, I highly suggest that you invest in a Moby Wrap. This will allow you to wear your baby so that you can have your hands free while getting stuff done around the house. I really wanted one of these wraps but I forgot put it on my baby registry. The great thing about a Moby wrap is designed to distribute your baby's weight on both shoulders and back. Most other slings on the market only distribute the weight of your baby on one shoulder which can cause problems with your shoulder or back. This wrap is made of 100% cotton and it is easily washable. Plus, the wrap gives you several different ways to wear your baby as they grow.
Swaddle Blankets
I loved swaddle blankets with my youngest son and they were an absolute lifesaver at night. Without them, my son didn't like to sleep in his crib. These awesome blankets weren't around when my older two kids were babies and it was a constant struggle to keep them swaddled in receiving blankets. They would always wiggle their way out of them. The swaddle blankets are perfect and it took my youngest several months to figure out how to get out of the swaddle blanket. He did eventually figure out how to get his arms out but it was usually when he was ready to get up to eat or in the morning. I also loved these blankets because I didn't have to use a bunch of other blankets in the crib at night time. With my son dressed in a sleeper and swaddled up in the blanket, it kept him warm enough at night.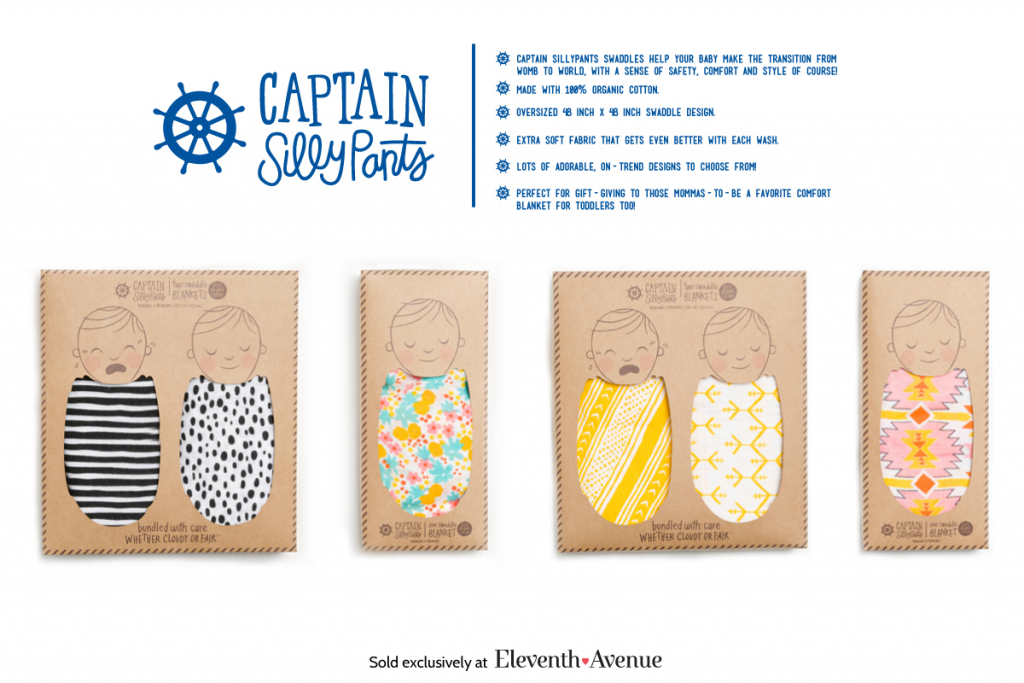 Click photo for more information!
Captain Silly Pants offers a top of the line swaddle blanket and they can only be purchased at Eleventh Avenue's website. For a limited time you can purchase these cute swaddle blankets for $18.99 (reg 34.99). Hurry there is only a limited number of swaddle blankets available at this price! This price won't be offered again. Here is some more information about Captain Silly Pants swaddle blankets:
Lots of adorable, on-trend designs to choose from.
Perfect for gift-giving to those mommas-to-be & a favorite comfort blanket for toddlers too!
Swaddles will be offered exclusively on Eleventh Avenue, and available for a limited time low price, during our preorder event.
Captain SillyPants Swaddles help your baby make the transition from womb to world, with a sense of safety, comfort – and style of course!
Made with 100% Organic Cotton.
Oversized 48 inch x 48 inch swaddle design.
Extra soft fabric that gets even better with each wash.
Bottles
Even if you plan on breastfeeding your baby, I personally suggest that you have a few bottles on-hand for your baby. I loved the Playtex drop-ins but everyone else that I know loved the Dr Browns bottles. These bottles are designed to help reduce gas. You never know when you might need them.
Boppy
The boppy is a popular nursing pillow available on the market. It can be used for nursing and for tummy time. A boppy is designed to help you hold your baby up to your breast so that you don't have to bend down towards your baby. This helps with your posture and if you have a c-section it helps prevent your baby from putting direct pressure on your incision.
Rock N Play
I really wish that I would have put the Rock n Play sleeper on my baby registry. Instead, I opted for a pack n play for my youngest son. The Rock n Play sleeper would have been a better alternative because I could have put in our bedroom at night so that my baby was right next to our bed. Plus, it is portable so I could have used it various other places in the house too. I love that it has a built in incline so that your baby isn't sleeping on a flat surface. I remember a ton of moms complaining that the Rock n Play was the culprit for their babies having a flat head. It is easy to prevent flat head by making sure that your baby spends time during the day on their tummy or being held so that they aren't constantly on their backs. If your baby has problems with reflux, many moms found that the Rock n Play helped with this issue too.
High Chair or Space Saving High Chair
By the time your baby is 6 months old, you will need a high chair to make feeding time easier. I personally opted for the stand alone high chair. If you are low on space, you can even get a space saving high chair. The space saving high chair is similar to a booster seat but it has the tray included for your baby. It straps onto one of your kitchen chairs so that your baby can sit with you.
Swing
I loved having a swing with my daughter. She would sit in there and swing until it stopped (I had the old wind up swing). My boys didn't want to spend a ton of time in their swing but I loved having it around. It was great to use in the middle of the night when nothing else was working to calm the down. The swaying action of the swing mimics the same type of movement that there were used to inside of the womb. The swing was a huge lifesaver many times because I could put them in there when I had to take a shower or use the bathroom. I would have loved to try the Mamaroo on my babies but they were fairly new on the market with my youngest was born.
Bouncy Seat
They didn't have bouncy seats when my daughter was born but both of my boys loved theirs. They are very portable and you can take them with you around the house. I remember the bouncy seat was the only way that I was able to get a quick shower when my oldest was little. He loved being near me and while I was taking a bath or a shower, I could put him in the bouncy seat and would talk to him. Most of the bouncy seats today have toys to entertain your baby and they vibrate too!
Breast Pump
If you are planning on returning to work after your maternity leave is up and want to continue breastfeeding, I highly suggest purchasing a higher dollar breast pump such as the Medela Pump in Style. Most insurance companies are covering the cost of a breast pump, but if your's doesn't then you will have to purchase your own. I used the Medela Pump in Style breast pump and was very happy with it. I used the less expensive ones with my older two children and they didn't compare. A breast pump should be considered an investment and in the long run it will end up saving your money especially if you have multiple children.
Gas Drops
My babies during the first few weeks always ended up getting terrible gas and they would scream for hours. The gas pains would be painful for them and I had to help them get rid of the gas so that they would feel better. I usually tried using bicycle kicks first or rubbing their belly using a circular motion. If that didn't help work the gas out, then I resorted to using Mylicon gas drops.
Pacifiers
I always used pacifiers on all three of my babies. My daughter ended up finding her thumb when she was a few months old and it was so difficult to break her of the habit. It is so much easier to get rid of the pacifier when they are old enough to get rid of it. I always preferred the Mam brand pacifiers but my youngest didn't want to have anything to do with them. I also think that the Wunnabub pacifiers (the pacifiers that have the animals attached) are adorable too.
Baby Spoons
Once your baby is 6 months old, you will need some baby spoons so that you can start feeding your baby solids. The baby spoons are designed so that they are smaller and can easily fit into your baby's mouth easier. I always loved the spoons that would change color if the food was too hot. It made it very easy for me to tell if their food was too hot to eat so that I didn't accidentally burn my child's tongue or mouth.
Thermometer
I always purchased a brand new thermometer when each one of my children were born. When they are babies, it is always best to take their temperature using a rectal thermometer. I always designated their thermometer as the one that I would use rectally so that no one else would use it. I know that it is easier to take their temperature with those new forehead thermometer's but in all honesty sometimes those aren't always accurate.
Teethers
Many babies start teething around 4 months old or older and when they are teething they are usually pretty crabby. As a mom, I always relied on the teether's that had the liquid in the middle and I would stick them into the refrigerator. The cold temperatures would help soothe their gums and make them feel better. Also Sophie the giraffe is a popular teether.
I hope this list helps new moms know what to put on their baby registry to get them through their first year. Over the last few years, there are a ton of new baby products on the market making it harder for moms to determine what they really need.
Photo Credit: Pixabay
What was your favorite baby item during the first year after your baby was born?
If you find this article helpful and useful, please share it with your family and friends. Sharing helps Uplifting Families grow. Thank you for visiting.
Comments
comments